Joeboy Announces UK Mini Tour 2023: Get Priority Access to Tickets
Written by snatchradio on 12 April 2023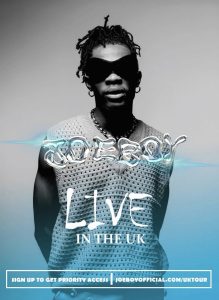 Nigerian Afropop star Joeboy has been making waves across the world in recent years with his unique blend of African and Caribbean vibes. He has established himself as one of Afrobeats' biggest hitmakers, accruing over three billion streams and working with cohorts such as Diplo, CKay, and Mr Eazi. Now, Joeboy has announced a mini tour of the UK, taking in dates in London, Manchester, and Birmingham in May and June 2023.
With his UK fan-base eager to see him perform live, Joeboy's team has shared a registration link for fans to sign up for priority access to tickets. The link has been shared to ensure that fans don't miss out on the opportunity to see Joeboy live, as tickets are expected to sell out quickly.
"I wanted to give all my UK fans access to my upcoming shows, I felt sharing a sign-up link ahead of the tour would be the most fair option for this," Joeboy says. "I love my UK fans and I cannot wait to bring my live show to London, Manchester, and Birmingham."
Joeboy's mini UK tour will feature tracks from his upcoming album, Body & Soul. Dropping in April, the 14-track LP boasts tracks full of love, good vibes, and happiness – filled back-to-front with Joeboy's trademark free-flowing lyricism and radiant riddims. The album features contributions from a wealth of Nigerian talent, and fans can expect to hear some of these tracks during his UK tour.
Joeboy's debut EP Love & Light was released in November 2019, and he followed it up with 2021's debut album Somewhere Between Beauty & Magic. The 14-song LP received rave reviews, with Rolling Stone declaring it as "one of the year's best albums." His next track, Sip (Alcohol), became his biggest single to date, fast approaching 700 million streams worldwide. The track topped Apple Music's streaming chart in 17 countries, and Joeboy finished 2021 as the year's most-streamed artist worldwide on Audiomack.
Bringing his good-time vibes to UK shores is the next step for an artist truly making his mark on a flourishing global Afrobeats scene. With his unique sound, catchy tracks, and upbeat performances, Joeboy's mini UK tour is not to be missed.
---
Reader's opinions
---